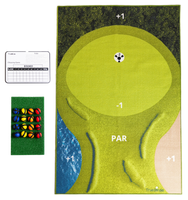 Sale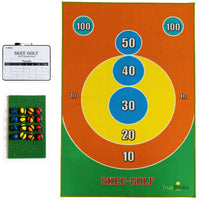 Sale
---
THE NEWEST BACKYARD GAME - Are you a fan of playing cornhole, ladder golf and yard pong? Well here are the newest games that everyone is going to be calling "Next!" for! Perfect backyard games for all ages and skill levels (1-4 players). Endless fun with family and great games to start a tournament with your friends.
GREAT INDOOR OR OUTDOOR - This will grab all of the attention at the next barbeque, but don't sleep on it for some indoor fun and practice. Whip it out during some bad weather or in the winter to polish your chipping skills
FUN FOR ANYONE - All golfers will be addicted, but you can easily tweak the rules or change the chipping length to make it a friendly game for all ages and skill levels.
WHAT'S IN THE BOX? 6ft x 4ft Chipping Target, Chipping Mat, 16 Velcro Foam Golf Balls (4 of each color) and a Dry Erase Scoreboard with Marker
---
What can TrueBirdie do for you?
TrueBirdie is here to help you dial in all aspects of your game.  Whether it be driving, chipping or putting, our tools will keep your game sharp so you can earn that TrueBirdie on the course!  Take a few minutes in your home, at the office or in your backyard to improve your skills and hit the course with confidence.